Tchesyo
(czyt. Czesio)
- w odcinku
Za kólisami
występuje jako znany aktor grający
Czesia
. Nie utożsamia się ze swym bohaterem. Czasem przeklina, jest palaczem.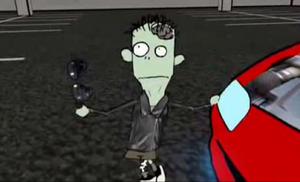 W magazynie W świecie gwiazd miał zaprezentować sportowe auto o mocy 220 koni mechanicznych. Zachowuje się ekstrawagancko. Jest ubrany w skórzaną kurtkę i okulary przeciwsłoneczne.
Ciekawostki
Edit
Makijażystka Mimi twierdzi, że używa matowego makijażu, by aktor był podobny do zombie.
Tchesyo różni się od Czesia tym, że ma bujne włosy na głowie.
Ad blocker interference detected!
Wikia is a free-to-use site that makes money from advertising. We have a modified experience for viewers using ad blockers

Wikia is not accessible if you've made further modifications. Remove the custom ad blocker rule(s) and the page will load as expected.